Custom Catering
Whatever type of event you're hosting, the food matters.
We work with you to ensure your menu matches the mood and theme of your event, and makes it one your guests will remember for years to come.
We can accommodate allergy and dietary restrictions.
Delivery charge may apply depending on location.
Catering Add-ons:
Table Service Rate: $25/hour
Dinnerware: Paper $1 | Glass $4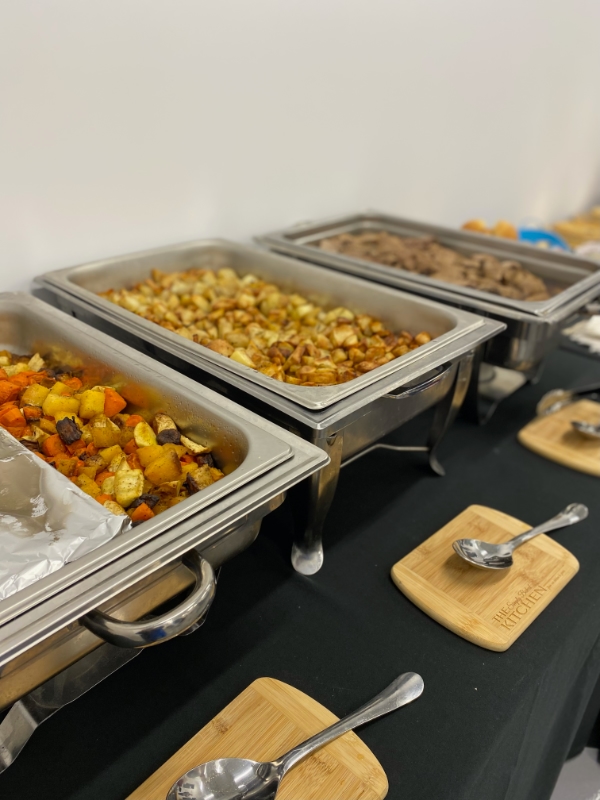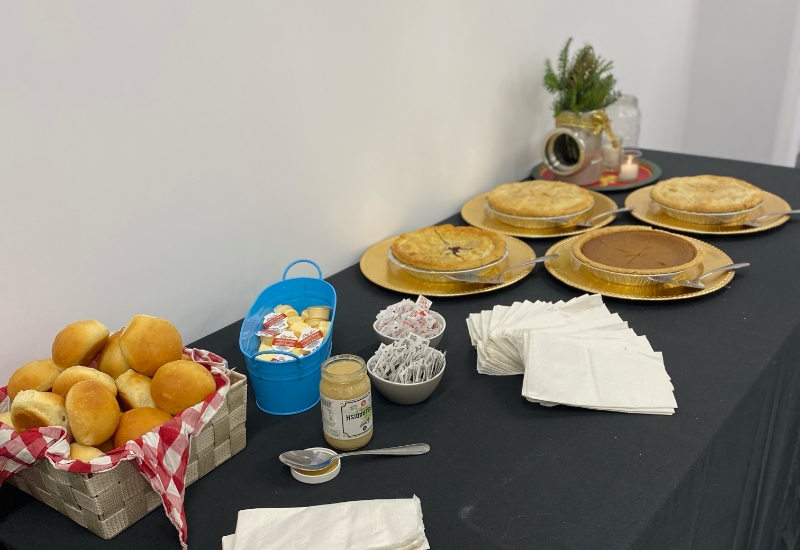 Breakfast
Mini Scones / Morning Buns
Sausage
From Greg's Quality Meats
Bagel Bar
Bagels:
Sesame seed bagel
Everything bagel
Cream cheese:
Garlic
Strawberry cream cheese
Other flavours are possible.
Coffee Breads
Flavours:
Lemon
Cinnamon
Date nut
Banana
Quiche
9" sliced into 6 pieces
Flavours:
Ham and Swiss
Breakfast
Farmer's Market
Trays
Sweets
Small tray has 20 pieces.
Can include:
Soups
Optional: Add onion focaccia bread to each soup order.
Loaded Baked Potatoes
Loaded Baked Potato Options:
Breakfast
With a sausage gravy and cheese
Fully Loaded
Bacon, cheddar, green onion, sour cream
Salads
Mediterranean
Tomato, cucumber, feta cheese
Italian Antipasto Pasta Salad
Pasta, cherry tomatoes, bocconcini, pepperoni or salami, artichoke hearts, olives, red onion, Italian dressing
Meals & Mains
Roast Beef / Sirloin Tip
With rosemary roasted potatoes, roasted root vegetables
Beef Lasagna
With Caesar salad and garlic bread
Octoberfest Sausage
With peppers and onion, served on potato sub rolls
BBQ Chicken Drumsticks
Two per person, made with Ben's BS
Roast Beef Sandwich
With onion and horseradish sauce, served on a sourdough bun
Macaroni & Cheese
Options include:
Regular mac & cheese
Mac & cheese with bacon
Mac & cheese with broccoli
Pulled Pork
On an onion bun, served with coleslaw
Cold Sandwiches
Chicken Salad
Choice of bun, wrap or croissant
Ham & Swiss
With honey mustard, choice of bun or croissant
Caprese-Mozzarella
With tomato, lettuce, and pesto mayo, choice of bun or croissant
Brie, Cranberry Sauce & Lettuce
Choice of bun or croissant
Previously Catered Events
Make Your Event Extra Special
Book Your Catering Service
Fill out the form below to let us know how we can help.